What if Jesus wore a hula skirt, bunny slippers, devil's horns, and a skull t-shirt? Well, if you purchase "Magnetic Jesus Dress Up!" you can see what that might look like.
DressUpJesus.com
sells the magnetic dress up set for Jesus. The set works kind of like a paper doll. The main piece is Jesus hanging on the cross wearing only briefs. You can dress him up with any variation of the given pieces such as a tutu, a coconut bra, a devil costume or snorkeling gear. There are also signs that say things like "TGIF" or "Happy Easter" that can be hung on the top of the cross.
These small magnet kits created quite a buzz in March 2004. Urban Outfitters, who had been carrying the magnets, pulled them after many protests. The protests came from Christian organizations such as
The American Family Association
and
The American Society for the Defense of Tradition, Family, and Property
.
Bob Smith, 34, created the online version of Dress Up Jesus. Bob, who likes to be called "normal bob", sells the kits from his website. According to
a Washington Post Report
Smith was raised a Christian but became and Atheist at the age of 30. The same article says Smith reported attending a showing of
The Passion of the Christ
dressed as Satan.
The kit measures 11 by 8 inches and sells for $14 plus shipping on the
website
, or at various
retailors listed on the site
. The
website
currently features a Jesus in
The Wizard of Oz
motif where visitors can dress Jesus up as any Oz character or any combination of characters.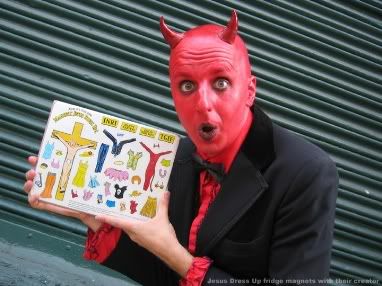 Bob Smith with his creation.